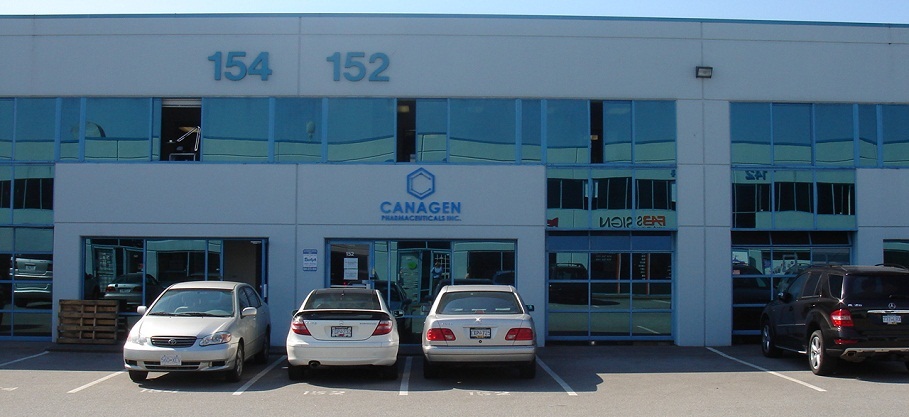 INTRODUCTION
Established in 2001, and headquartered in Richmond, British Columbia, Canagen Pharmaceuticals Inc. is an innovative and established Canadian generic pharmaceuticals manufacturer actively engaged in the manufacture of finished dosage generic pharmaceuticals, over-the counter (OTC) medication and active pharmaceutical ingredients (APIs) and in the research, development and commercialization of novel drugs covering the cardiovascular, oncology, dementia and anti-viral therapeutic areas.

Canagen Pharmaceuticals Inc. is a subsidiary of the global conglomerate, The Fazio Group of Companies. Established in 1983, The Fazio Group of Companies is a well established and diversified multinational organization, comprising 38 companies, that is actively involved in diverse manufacturing (cooking oil & food products, cosmetics & beauty products, pharmaceuticals, health supplements, environmental products, ship-building, etc), shipping & transportation, bonded-warehousing & distribution, real estate (property) construction & development, international bulk commodities trading, ship-building, hotels, agricultural development, poultry processing, fisheries development, water purification, thermal power plants, mining & processing, pharmaceuticals research & development, biofuels & alternative energy technologies, LED lighting technologies, investment banking, private equity and financial investments. With regional offices and operations in 18 countries (including Canada and China), covering four continents, The Fazio Group employs over 8,800 people worldwide.

The Company has four certified GMP pharmaceuticals factories in Canada, China, India and Russia and manufactures a wide variety of finished dosage generic drugs and active pharmaceutical ingredients at these facilities, under the CANAGEN label and also under our clients' private labels. The Company also maintains purchasing, sales & distribution offices in the U.S., China, India, Hong Kong and Cyprus.

The Company's OTC Products Division is primarily engaged in the research, development and manufacture of unique and proprietary, over-the-counter ("OTC") healthcare products and health supplements shown to deliver consistent and verifiable results in the prevention and treatment of various chronic ailments and diseases. The Company deploys pharmaceutical R&D protocols for its OTC products development, including rigorous toxicology and safety studies, clinical testing and human clinical trials

The Company's Nutraceuticals Division manufactures a broad range of health supplements, vitamins, sports nutritional products, such as Flu-X™ (oral flu & cold spray), Ferroheme™ (Hemoglobin Iron Protein Complex for iron deficiency and anemia), Tribesinol™ (testosterone replacement therapy), "Pedia-Safe" Polyvitamin Infant Drops, SOSA (opiate drug addiction treatment) and NKO Krill Oil capsules for cholesterol reduction and control of hyperlipidemia.


Quality:
All our products are manufactured at Health Canada, U.S. FDA and World Health Organization (WHO) approved and registered pharmaceutical facilities that strictly and fully conform to and comply with certified Good Manufacturing Practices ("cGMP") and international pharmaceuticals best practices, thus ensuring the highest quality and consumer safety.

The Company maintains leading-edge product research & development capabilities by virtue of its numerous research & development collaborations with leading universities and research institutes in Canada, USA, China, India, Russia and Bulgaria.
Management :
Canagen Pharmaceuticals Inc.'s management team has over sixty years of combined experience in the research, development and manufacturing of generic pharmaceuticals and OTC medicines and of the global pharmaceuticals industry, including the Chinese and Indian pharmaceutical industries. This extensive experience is combined with a solid understanding of international pharmaceutical industry best practices and a strong insight of the emerging trends in medicine.
Canagen Pharmaceuticals Inc © 2012